1 October 2015 – 13 February 2016
The Crawford presents The Door Ajar as part of the group exhibition 'The Language of Dreams'. Artists include Brian Boydell, Thurloe Conolly, Patrick Hennessy, Nevill Johnson, Patrick Jolley, Colin Middleton, Hilda Roberts, Cecil ffrench Salkeld and Mary Swanzy.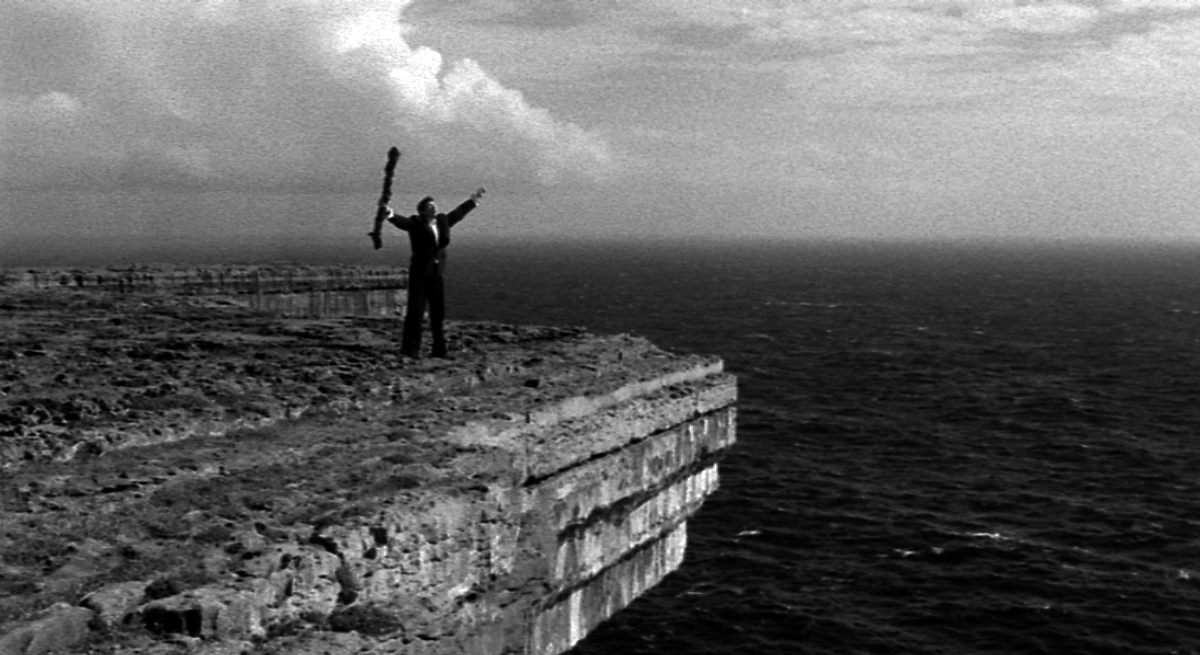 "I want to make a book that will change all men. That will lead them where they never consented to go….a door simply ajar on reality,"
Antonin Artaud (1896 – 1948)
The Door Ajar is a film by the Irish artist Paddy Jolley (1964-2012), that considers the work and life of the influential French poet and theatre director Antonin Artaud (1896-1948) through a journey to Ireland Artaud undertook in the summer of 1937. He had set out on a quest in which he pro-posed to examine ancient Gaelic traditions, and aimed to re-turn the supposed staff of Saint Patrick to its rightful owners. His expedition resulted in his arrest, repatriation and internment in a number of mental institutions on his return to France. Little is known of what took place during those few short weeks in Artaud's life, of his wanderings and of his state of mind.
The film does not attempt to fill in the missing facts; rather, it builds upon the biographical evidence by developing a partial and broken narrative around Artaud's presence. The Door Ajar follows the path of a man set on attaining true visionary power at any cost and features two strong central performances – one visual and one aural, bringing about 'what could best be described as his unconscious breaking out into the conscious world' (Steven Galvin, Film Ireland).
The first part of the film relates to Artaud's outlook on life and his ideas about theatre. The second part is concerned with his search for signs in natural phenomena and his efforts to harness the forces of nature to his own ends. The third describes a crisis of resolve followed by a decision to move beyond 'lucid madness' in an effort towards total epiphany. The conclusion outlines his deportation and subsequent incarceration in asylums for the insane over the next eight years.
In his films Jolley resisted conventional narrative structure, preferring instead oblique, fragmentary sequences. He was profoundly interested in the ordinary and its proximity to the horrific, and in how little can be done to stop the one turning into the other.
The Door Ajar is screened within a wider context as an introduction to the forthcoming exhibition at the Crawford Art Gallery titled Dreams and the Unconscious (October 2, 2015 – February 6, 2016). The exhibition examines how innovations in art and psychology, mainly in France and Germany, influenced British and Irish art from the 1920's onwards.
Patrick Jolley's recent exhibitions include Inside, Palais de Tokyo, Paris; EXPO1: New York, MoMA PS1; 30th São Paulo Biennial and a solo show at Limerick City Gallery. His work has been exhibited at TATE, London; Pompidou Centre, Paris; Reina Sofia Museum, Madrid; the Berlin Biennial and Dublin Contemporary. His work has featured at numerous international film festivals including Sundance Film Festival, Kassel Documentary Festival and Les Rencontres Internationale. His work is in the collections of MOMA, New York; the Neuer Berliner Kunstverein (NBK), Berlin; Julia Stroschek Foundation, Dusseldorf and IMMA, Dublin.
Visit Website Crawford Art Gallery