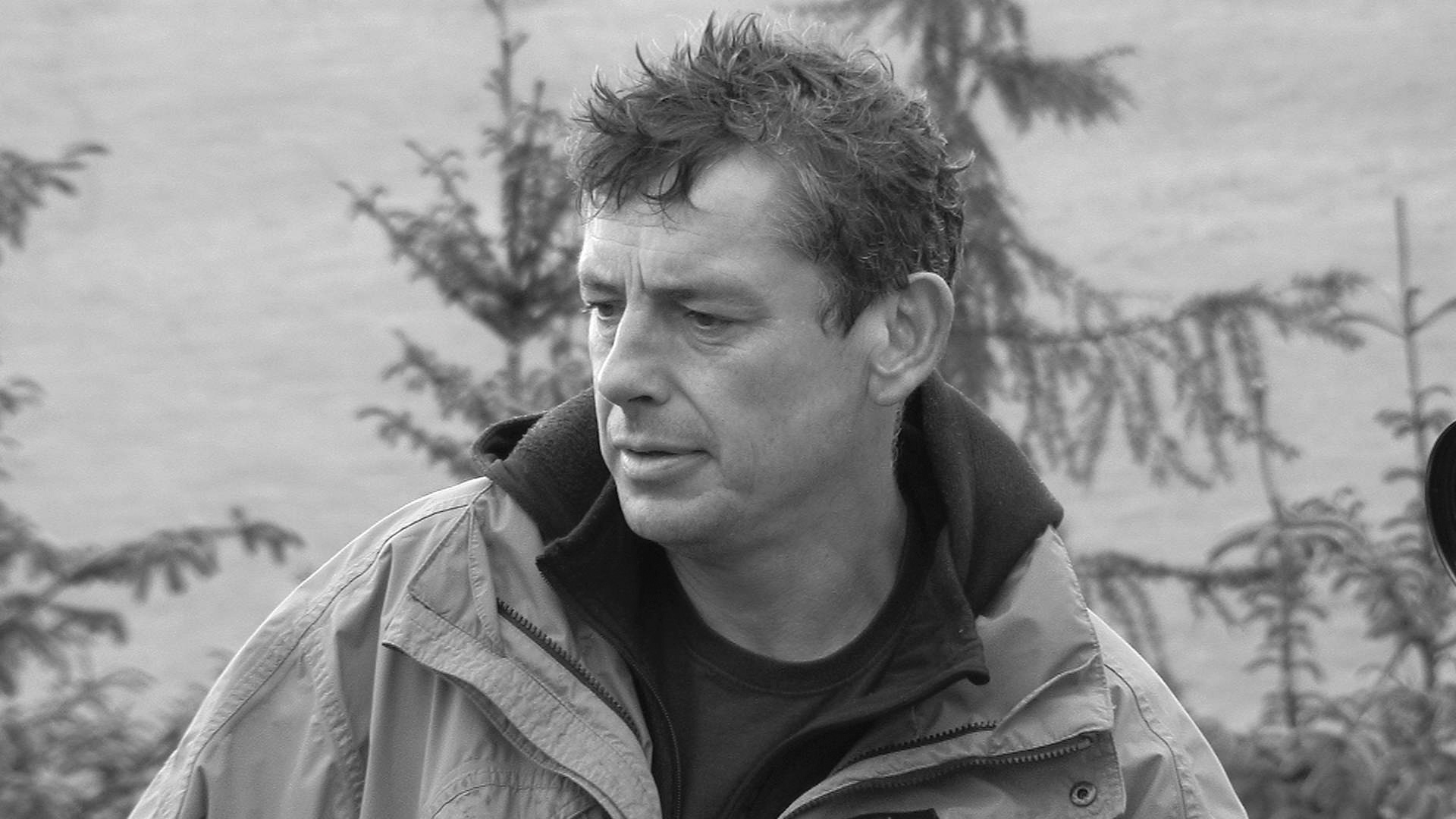 LIFE
Paddy Jolley was born in 1964 in Bangor, Co Down, Northern Ireland. At fifteen he moved with his family to the village of Dunmore East in Co. Waterford. In 1989 he graduated with a BA in print from the National College of Art and Design, Dublin. Following this he lived and worked in London and northern America, but it was in Prague where he moved with the artist Inger Lise Hansen, that he became increasingly preoccupied with photography. In 1994, a scholarship to the MFA photography programme at the School of Visual Arts in New York moved him towards film.
He returned to Ireland in 1996, but continued to travel, mostly in Eastern Europe. In 1998 he took part in the residency programme at the Irish Museum of Modern Art, followed by a residency in New York as part of MoMA PS1's International Studio Programme, which saw the beginning of an extended collaboration with the film-maker Reynold Reynolds. Their first short film Seven Days 'Til Sunday (1998) won him Best New Director at the Cork Film Festival, and was screened at the Tate Modern, London. Their next project, The Drowning Room (2000), was screened at the Sundance Film Festival, and is in several important collections including the Neuer Berliner Kunstverein (n.b.k.). The film installation Burn (2002) was included in the 3rd Berlin Biennale (2004) and is part of the collection of the Museum of Modern Art, New York.
Jolley left America for Berlin following the changes brought about by 9/11 but returned to New York to make one final film—Sugar—with Reynolds in 2005. There was also one other collaborative film—Here After—made in Dublin in 2004 with the artists Inger Lise Hansen and Rebecca Trost, which is part of the collection of the Irish Museum of Modern Art, Dublin.
After Sugar, Jolley moved to Co. Meath in Ireland where he made nine solo films in eight years. His film, The Door Ajar (2011), a surreal visualisation of Antonin Artaud's traumatic visit to Ireland, departed from his usual format of non-verbal shorts. It was exhibited at Dublin Contemporary 2011.
Jolley's sudden death in Delhi in January of 2012 came as a profound shock. The physical absence of the artist at the 30th Sao Paulo Biennial in Brazil prompted many tributes, and his work was shown to considerable acclaim. The following year a major Retrospective was presented in Limerick City Art Gallery. He is survived by his partner, Lu Thornely, and their two young sons. His work continues to be exhibited extensively in Ireland and throughout the world.
WORK
There is no virtual in Jolley's work. Everything is hand-made, hand-stitched, hand-thrown. His ideas emerge from the materials and direct the flow of each film. This is most evident in his later films, but even in the early collaborations with Reynolds he is making dummies out of old newspapers and discarded clothing (Seven Days Till Sunday), filling shipping containers with water (The Drowning Room) and experimenting with flammable liquids poured onto different surfaces (Burn).
Jolley is profoundly interested in the ordinary and its proximity to the horrific and in how little can be done to stop the one sliding into the other. Although there is frequently violence in his films there is never aggression—his characters burn, freeze, drown, or fall from tall buildings with apparent indifference, but there are no corpses and the nearest he gets to a war-image is a monkey gnawing the flesh from unidentified bones. The history of the twentieth century was very present to him: the absence of its tragic and bloody images is therefore the more surprising.
Perhaps that early move from a violent to a traditional society may help to explain his detachment and his unwillingness to settle. It was certainly a shock to his perception of his own identity. Throughout his life he travelled extensively, at first mostly in the Northern America and Soviet Europe, then later in Central and Southern America and in India. He travelled with an apparently casual intensity, observing without didacticism, almost without comment. The split loyalties in his [always Irish] identity may also explain the feeling of statelessness that permeates the films. India interested him deeply because of the open way in which the spiritual co-exists with the dirt and physicality of being human. The reality of acceptance: things are as they are. Like Beckett, his scenarios eschew the actual drama of war and concentrate on the quiet desperation of enduring. Neither explanation nor comfort form any part of his philosophy, while resignation and humour are tools to be used to survive life.
EXHIBITIONS
Selected international exhibitions include; 'Generation Loss/ 10 Years of Julia Stoschek Collection', Düsseldorf, (2017); 'The Headless City', TULCA Festival of Visual Art, Galway (2016); 'Inside', Palais de Tokyo, Paris (2014); 'Agitationism', EVA International, Limerick (2014); 'EXPO 1: New York', MoMA PS1, New York (2013); 'Unsafe Spaces in Contemporary Art', Kunstmuseum Bonn, Bonn (2013); '9 + 1 Ways of Being Political', Museum of Modern Art, New York (2013); 30th São Paulo Bienal, São Paulo (2012); 'Art and Publicity: 40 Years n.b.k.' Neuer Berliner Kunstverein, Berlin (2009); 'Farewell to Post-Colonialism', 3rd Gwangzhou Triennial, China (2008); 'Of Mice and Men', 4th Berlin Biennial; Berlin (2006); 'Into Me/Out of Me', Kunstwerk, Berlin & MoMA PS1, New York (2006); 'Displaced', Hammer Museum, Los Angeles (2003); 'Grayscale/CMYK' Tramway, Glasgow (2002); 'Ausgeträumt', Secession, Vienna (2001) and the 7th Havanna Biennial, Cuba (2000).
He has exhibited in many Irish Institutions including the Irish Museum of Modern Art, Dublin, the Douglas Hyde Gallery, Dublin, the Project Arts Centre, Dublin, Limerick City Gallery, The Crawford Art Gallery, Cork, Pallas Projects, Dublin, Solstice Gallery, Navan and the Butler Gallery, Kilkenny.
His work is included in the Lux Touring Programme and has been screened at Tate Modern, London, Moderna Museet, Stockholm, Pompidou Centre, Paris (Rencontres Internationales), Reina Sofia Museum, Madrid (Rencontres Internationales) as well as extensive screening at film festivals including, Sundance Film Festival, Rotterdam Film Festival, SXSW Film Festival, Indie Lisboa, Edinburgh Film Festival, Cork Film Festival, Rotterdam Film Festival, Kassel Documentary Festival, Dublin Film Festival and LA Film Festival.
His work is in the collection of MoMA, New York; Neuer Berliner Kunstverein (n.b.k.), Berlin; Irish Museum of Modern Art, Dublin; Julia Stoschek Collection, Dusseldorf; FRAC Languedoc Roussillon, Montpellier; Ellipse Foundation, Lisbon; Office of Public Works, Dublin as well as many private collections.